Workplace Wellbeing Academy
About Us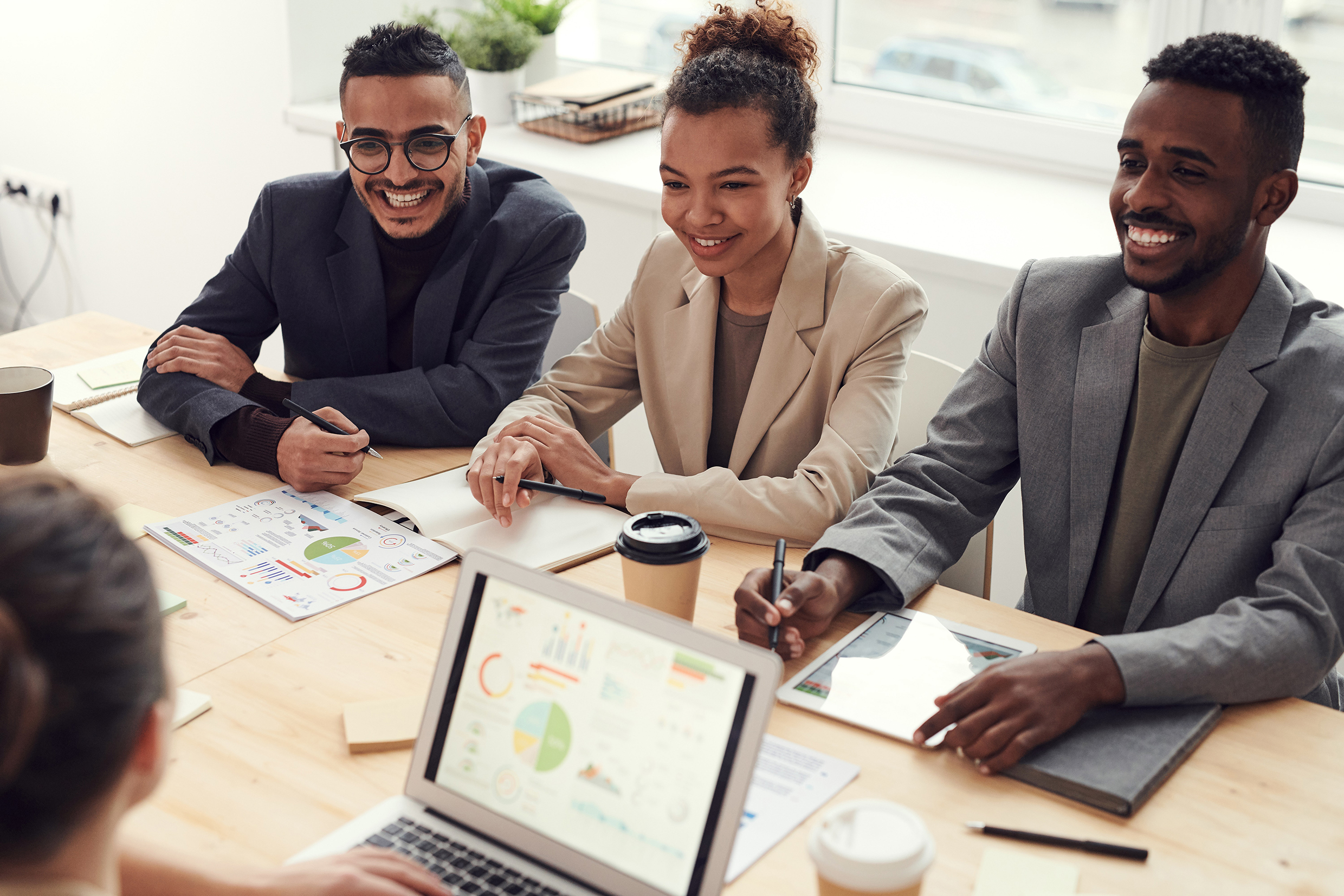 About Us
We believe that investing in the mental health and wellbeing of your employees is a business imperative. 
Workplace wellbeing is fundamentally about putting people first. Trusting in the belief that providing a workplace where everyone can thrive is the route to a more effective, engaged and productive workforce.  A workforce that is more adaptable to change and loyal.  One that is an advert for your organisation, helping you to attract the best new talent. All essential if you are to succeed in a rapidly changing business world.
Workplace wellbeing is about more than avoiding the potentially negative aspects of work such as stress or ill health.  It is about creating a culture where every member of staff can realise their full potential and is committed to making your company a success. It is about creating an organisation that invests in the emotional, physical, and psychological wealth of its employees, knowing that this will lead to greater success for everyone.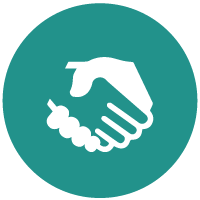 Consultancy
There is growing evidence across the globe that businesses that invest in the mental health & wellbeing of their people are more successful.  Getting this right means that your employees will be more resilient to change and more creative in developing solutions to new challenges.  
read more
You will become an employer of choice, making it easier to recruit and retain the best talent.
We work with your Executive Leadership to explain the benefits and risks associated with investing in the mental wealth of employees and help create evidence-based strategies that integrate mental health & wellbeing into other business critical policies.
There are many sources of data that can help you determine how well you are doing in relation to employee wellbeing and mental health, absence records, engagement with your Employee Assistance Programme engagement, personal injury claims etc.  But the most powerful source of data is your employees themselves.  How do they perceive your organisation?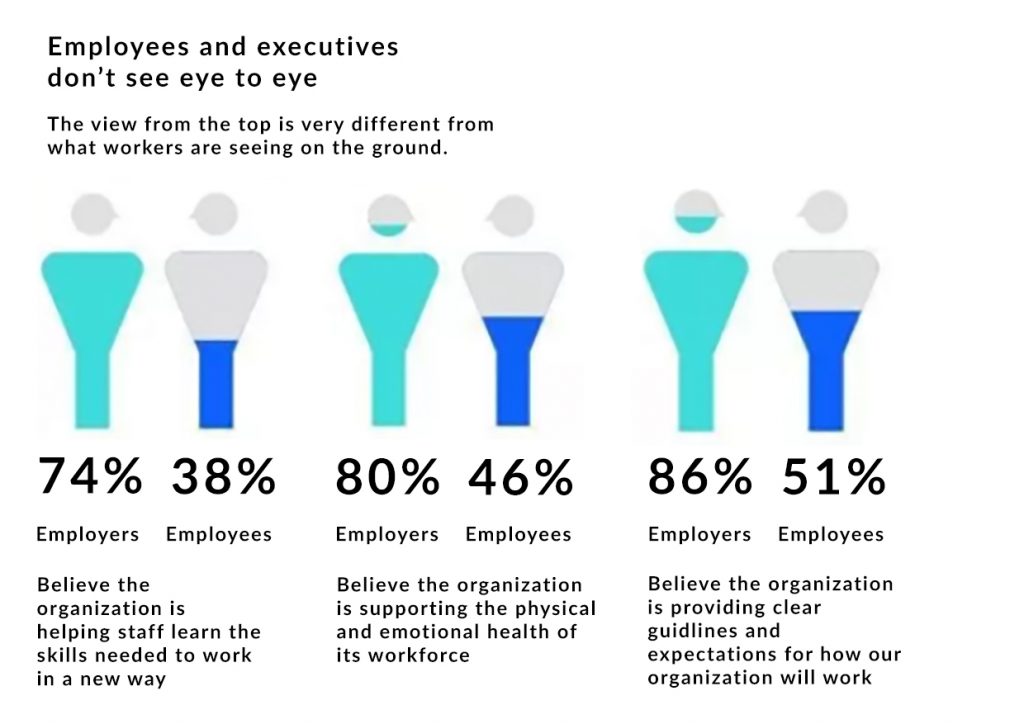 Consulting with your employees, determining their current mental health & wellbeing and understanding of the subject are key to developing an effective strategy.  It is also a great, early way to let people know that you take their wellbeing seriously and to baseline your organisation so you can monitor the impacts of your programmes. 
We can offer you a wide range of evidence-based tools and analysis to develop bespoke strategies that will help all your employees to thrive.
Audit/Review
Getting your approach to wellbeing right, is something that underpins all other aspects of your business: culture, strategy, performance, staff engagement, the list goes on. Many organisations are already doing positive things that enhance the mental health and wellbeing of the employees, we will help you do more.
read more
We act as a critical friend, auditing and reviewing all areas of your business, understanding how you approach wellbeing, what works and what can be done better.   
We offer a comparison against our "wellbeing standard" – a benchmarked set of principles and practice that have been proven to succeed in a range of companies and industries.
It is important to recognise that there are no 'one size fits all' solutions to improving workplace wellbeing.  Our experience in delivering practical, 'real-life' solutions will help you prioritise where you may need to invest.  The good news is that there many low cost and effective interventions that can be put into place as you build to long term, sustainable change.
We also offer a periodic updated review that offers the peace of mind of an independent voice and an expert comparison with latest thinking.
Training
We offer multiple training opportunities across a full range of Workplace Wellbeing subjects, from the promotion of positive mental health and first aid for mental health, to inclusion & diversity, personal resilience, smart working, & managing remote teams to name a few.
read more
We can also create bespoke courses to meet the specific needs of your organisation to ensure they match your company culture and language, and to ensure they fit with your core messages.  All training is based on current, evidence-based practice.
For more details on individual courses click here.
Coaching
Our executive coaching service provides an opportunity for individual clients to find the time and space to reflect on issues that are significant to them and to come to a realisation as to the best course of action. 
read more
We take the time to get to know the individual, through conversation, psychometric tools or 360 degree feedback – whatever is most appropriate.
We understand how important it is for a coach to "fit' and so we have a range of coaches, from many different backgrounds. They are all vastly experienced and our matching service ensures that we find the right person for each client.  Someone that they can trust and build a productive working relationship with.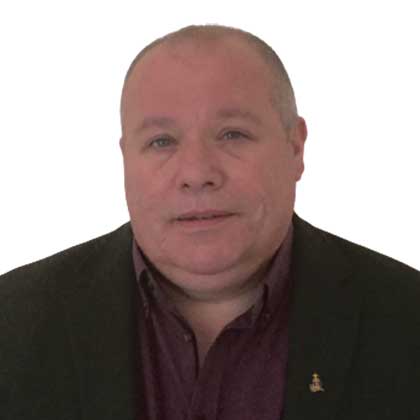 Bill Cunningham - Director
Bill Cunningham is a psychologist who has been delivering mental health awareness training to the public, across the UK and Ireland, since 2007. He was one of the first Mental Health First Aid instructors in England and has delivered courses to diverse groups in community, corporate and public settings ever since.
read more
This included working with officers and prisoners in prisons and extensive work training mental health advocates for Merseyside Fire and Rescue Service. 
From 2009 to 2017 he was a National Trainer for the MHFA England CIC and trained 30 cohorts of new MHFA instructors, including 30 prison officers, to deliver the course in community and workplace settings. 
As a Director of the Golden Tree Wellbeing CIC, he developed training courses using techniques derived from Cognitive Behavioural Theory, Mindfulness and Positive Psychology to help provide people with proactive tools to promote positive wellbeing. He has also designed courses delivered to NHS staff in Cumbria and to the armed forces community at Catterick Garrison. 
From 2017 to 2019 he worked for the Saint John of God Hospital, Dublin which holds the licence to deliver MHFA in Ireland. His role as National Trainer involved delivering the training in the community and in corporate setting across Ireland. He also developed the training materials and designed the MHFA Ireland instructor training programme. In this role, he delivered a programme of courses for police officers (An Garda Siochana) several of whom went on to train as instructors. He remains an Associate Trainer for MHFA Ireland. 
He is a member of the British Psychological Society and is a Fellow of the Royal Society of Arts.
What our Clients say about Bill
"Bill is an excellent trainer with superb subject knowledge. I would highly recommend him." 
Simon Richardson, Golden Tree CIC
What our Clients say about Bill
"Bill is one the most effective trainers I have ever worked with. I very much look forward to working with him again."
Bernie Graham, MHS Training and Consultancy Ltd
What our Clients say about Bill
"A fantastic, course, some incredible real-life examples and I could happily sit and listen to Bill talk all day. Thank you." 
Anon
What our Clients say about Bill
"Bill is an excellent trainer and mentor."
Trevor Bell, TBAS Ltd.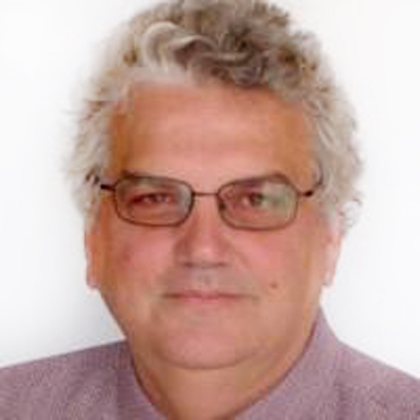 Glen Ridgway - Director
Glen recovered from his own breakdown in 2008 to design and deliver his employer's global mental health matters strategy.  Glen created all training materials (included a full day promoting mental health and awareness course) for a community of 1500+ positive mental health champions across the globe.  
read more
As a Divisional Director of the global HSE team responsible for the strategy Glen travelled extensively to support the business to deliver the strategy including North and South America, Asia, Europe and the Middle East.  His biggest revelation during this time is that mental health is an issue that affects all communities in all countries and, as such, can be a unifying subject for global organisations.  The method of delivery may vary – but the message is very much the same.  
"Investing in the mental health and wellbeing of staff brings benefits for the individual and the organisations".
Glen is a founding father of Safer Highways and one of the architects of the first ever sector wide mental health survey looking at how the highways industry were delivering the Stevenson Farmer "Thriving at Works Report.  Glen's client list includes: Palace of Westminster Restoration & Renewal Project; Safer Highways; Applied Driving Technique; City & Guilds (UK); Hope for Children; Charity IT Leaders and other clients who prefer to remain confidential
He has the practical experience in delivering mental health and wellbeing strategies that has helped clients deliver long term, sustainable change and helps employees thrive every day.
What our Clients say about Glen
"Glen was instrumental in shifting our culture and making us aware and comfortable to talk about mental illness. The programmes we now have in place have been directly influenced by the work we did with Glen when developing our strategy."
Paul Lindsay Health, Safety & Wellbeing Director, Palace of Westminster Restoration & Renewal Project
What our Clients say about Glen
"In my time working with Glen over the past few years I've known him to be one of the most effective mental health leads I've come across. What he achieved leading Jacobs' mental health champions initiative at a global level was ground-breaking. 
Heather Kelly (This Can Happen)
What our Clients say about Glen
"Glen guided us in opening up the discussion on mental health in our newly merged company, helping others to feel emotionally safe in an unsettling time, which promoted trust between new colleagues."
Ivana Moretti Communications Director, Worley
What our Clients say about Glen
"Glen's practical experience in implementing workplace mental health strategies has been invaluable as we begin to roll out our own People and Wellbeing Strategy."  
Vashti Holland, Guide Dogs for the Blind Association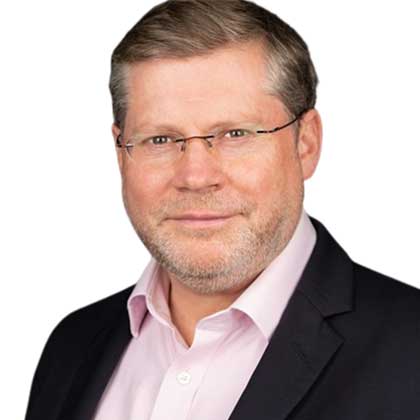 Iain Smith - Director
Iain has a proven track record of enhancing individual, team and group performance at executive and senior manager level. With a long career in transport, he has worked as a consultant for many transport companies as well as in a number of other sectors including education, forestry, pharma and local government.
read more
His key clients include Transport for London, Network Rail and City & Guilds.  He has also advised the Mayor of London's Office on apprenticeship programmes.
Iain has an energetic and innovative change agent who brings a personable, engaging and honest communicative approach to each project. With more than 20 years in the L&D field he understands how to align training programmes with the specific need of clients.  Allied to this he understands the fundamentals of how to engage with staff at all levels to ensure maximum participation. He has the theoretical knowledge and practical experience to ensure training and development programmes achieve long term, sustainable success.
What our Clients say about Iain
"I've worked with Iain for the past two years on improving the engagement and collaboration within my team at City & Guilds Group. He has been fantastic – honest, helpful, challenging, engaging and energetic."
 
Mikki Choman Draggoo
Corporate Relations Director, City & Guilds Group
What our Clients say about Iain
"Iain combines great strategic vision & a searching analytical ability which he uses to turn concepts into successful reality."
 
John Soden
Immigration Consultant at Clark Wilson LLP
What our Clients say about Iain
"Iain has a rare combination of high energy effectiveness and a considered, pragmatic approach. The combination has endeared him to many and his ability to initiate, qualify and see through innovative ways of working in a highly complex business is outstanding. He has a passion for helping and seeing people develop and is a great catalyst for action. I really enjoyed working with him!"
 
Toby Barnes
Global Talent Leader
What our Clients say about Iain
"Iain is immensely creative, energetic and infectiously positive of outlook. As a problem solver, he is second to none and a first class leader. I can, with certain confidence, recommend Iain for pretty much anything he puts his talents to. Everyone needs an Iain in their organisation."
Simon Wallis
Head of People & Development at Newtyne Consultancy and Training Limited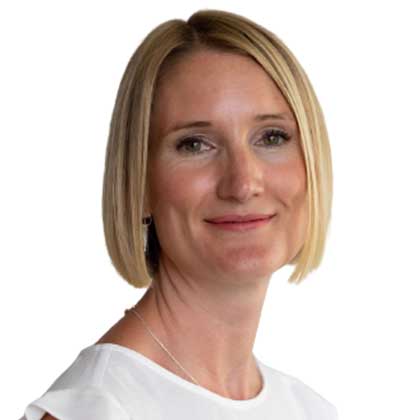 Emma Shannon - Associate
Emma is an experienced communications consultant with over eighteen years of stakeholder engagement, public affairs and employee engagement experience in the private and public sectors.  A passionate mental health advocate, Emma has helped businesses improve their mental health literacy and encourage more open dialogue about mental health issues to enhance staff wellbeing. 
read more
Over the last few years Emma has supported organisations in developing their Covid-response plans and in improving their wellbeing offering. She has provided strategic advice on how to manage the impacts of the pandemic on the mental health and wellbeing of staff and how to build trust through effective staff engagement.
The increased use of technology and the impacts of the pandemic have delivered a change in working practices and increased the demand for a more flexible working model. This brings new challenges for companies, making effective, targeted communication ever more important.  Emma's interest lies in using her expertise to help organisations navigate these changes and promote the mental health of their employees, creating more positive working environments where people feel supported to thrive. 
Previously Emma has supported major transport infrastructure programmes, where she has delivered large-scale communication programmes to support the delivery of multi-million pound projects such as the new Elizabeth line, Emirates AirLine and the London Overground. She has experience of developing relationships with a diverse range of stakeholder groups to build support for organisational priorities and mobilise stakeholder advocates.
What our Clients say about Emma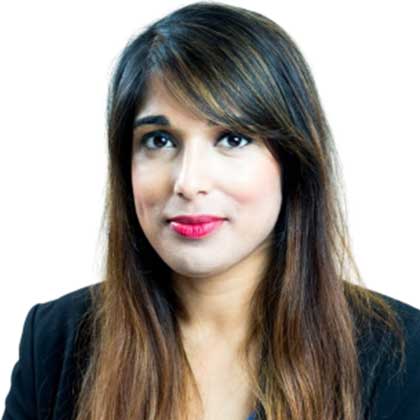 Shireen Ali-Khan - Associate
Shireen Ali-Khan has 20 years' experience in communications, engagement and change. Working with many of the UK's major infrastructure programmes, she has built relationships with a wide range of stakeholders including business, employees, educational establishments, charities, and community groups.
read more
She is passionate about understanding human behaviours and motivations which has been integral in developing others to thrive. Her people first approach, authenticity and holistic style makes Shireen stand out from the crowd. The impact she has had on the programmes she has worked on has ensured sector wide legacy for example, the work of the Crossrail Community Investment Programme, which saw activity from all contractors across the entire route supporting a range of vulnerable community groups. Shireen led on communications and wellbeing for several organisations during the Covid 19 Pandemic, ensuring staff were supported and engaged with throughout and has recently launched the Muslim Mind Collaborative, an evidenced based programme which brings together faith based and national mainstream mental health organisations to develop a Muslim focused strategy to mental health and wellbeing. 
Her interests extend into leadership, development, intersectionality, trauma, psychology, productivity and habits. She has advised on emerging risks and threats in this area, and championed the escalation of mental health up the leadership agenda.
Some of Shireen's previous clients include:
Transport for London
Tideway
High Speed Two
Crossrail
Royal Academy of Engineering
Institute of Engineering and Technology
Muslim Mind Collaborative
Shireen is a member of the Chartered Institute of Public Relations and Association of Project Managers
What our Clients say about Shireen
"I have seen how her energy, skill and charisma can be a game changer and couldn't recommend her highly enough"
Suzanna Brodie BA (Hons) and MA - Associate
Suzanna is an integrative Psychotherapist and Counsellor who skillfully manages the balance between a professional approach and gentle kindness.  She supports clients with anxiety and depression, providing them with a safe non-judgemental space to explore wherever they may be in life, helping them to build both self-esteem and acceptance.
read more
She is a registered member of the British Association for Counselling & Psychotherapy, having achieved her MA at Regents University, London, and works with individual clients and runs therapy groups, both face to face and online.  She does this either via the Farm Dayhab, a high-end mental health and addictions treatment providing care for the largest range of psychological and dependency disorders, or her own private practice.
She is a co-founder of Menopause and the Workplace Ltd and is passionate about being part of a movement to bring awareness and support to women during this time of their lives.
Suzanna has a long track record of success having previously worked at a number of well-recognised organisations.  Amongst these are MIND, the mental health charity and The Forward Trust, where she facilitated six-month drug and alcohol programmes for addiction at The Mount, a male prison. There she worked alongside prison officers and probation services to give the best possible rehabilitation for inmates. She has also worked in an NHS setting at a women's centre, seeing clients for an IAPT service.
She has a BA in Creative and Media Writing and loves swimming and tennis in her spare time.
What our Clients say about Su
"My therapeutic work with Su has been transformative.  Her insight, wisdom, and gentle guidance has helped me navigate issues around various challenges in my 40s, including the menopause. Cannot recommend highly enough."
Vicky Zimmerman
Novelist
What our Clients say about Su
"I've been doing weekly sessions with Suzanna since 2019, and it has become a very important part of my life and wellbeing. Suzanna provides a safe and comfortable space where, through conversation, I can explore issues and patterns of conduct to gain a much deeper understanding of myself, and ultimately, learn to cope with difficult moments and find my own path. A wonderful journey towards self-discovery and personal growth, always done in a very kind, professional, and relaxed environment. Highly recommended."
Marta
Laura Gordon - Associate
Laura has 20 years of board experience as a sales, trading and business development director.  Her corporate background makes her well versed in stakeholder management and how to couch things in a way that works well within a corporate setting.   She is passionate about supporting and developing teams to deliver excellent results.
read more
Having spent most of her career working within a range of large matrix blue chip organisations and SMEs, Laura is able to sensitively and insightfully navigate across various organisational cultures, policies, ethics, values and goals.
A confident individual that is able to adapt quickly to changing environments, she has a proven track record of effecting change and delivering results at all levels within an organisation. 
Laura is one of the founders of menopause and the workplace and is passionate about delivering an education and awareness menopause programme within a workplace setting.
What our Clients say about Laura
"Laura's passion and energy around the subject of menopause and the workplace is infectious "

Charlotte Andrews
Head of Well-being and Development-Kingston Hospital NHS foundation trust
What our Clients say about Laura
"Laura is the consummate professional. She always strives to achieve optimum results. She has a personable and confident personality and is a pleasure to work with."
Tabitha Hunter Smale
Projects Development Manager – Confex Ltd
What our Clients say about Laura
"I have worked with Laura on various projects. She is a great leader and works well across all levels within organisations. She can successfully navigate obstacles and has a natural ability to take people along with her on the journey. She is hugely energetic & passionate about her subject and always delivers."
Claire Campbell 
Product Manager Destiny Foods
Angie Joyce - Associate
Angela Joyce has a lifetime experience of working with the public. Having been in the Hair and beauty industry for over 30 years, she is well versed in engaging with people and has a natural affinity for talking with ease with whomever she meets. 
read more
Angela is a trained aesthetics therapist and is passionate about women feeling good about themselves and investing in their wellbeing.  She highlights the importance of taking time to look after oneself physically, as well as mentally.
Angela has also been a sensory scientist for many years. This role involves conducting product research and testing to gauge primary customer appeal.  She is often instrumental in the creation of new product development and product improvement. 
Angela is a co-founder of Menopause and the Workplace. As a woman experiencing peri-menopausal symptoms herself, she is dedicated to sharing her experience to enable others to be honest about what they are also going through. She is part of a team, who delivers workshops on well-being, educational talks and line manager training. 
What our Clients say about Angie
"I can't thank Angela enough for making me feel comfortable talking about menopause. Her enthusiasm and care for people shine through. Great talk."

Nicolette Toth
Sensory Scientist GSK
What our Clients say about Angie
"Angela is a great speaker. She has great insight and passion. I walked away with new knowledge and some great tips."
Tammy Lee
Executive Secretary, Incisive health 
What our Clients say about Angie
"Angela was well informed about her subject and kept the topic light and fun. Great energy."
Andrea Auchoybur
Attendance Officer, Vineyard school.
What our Clients say about Angie
"Talk about relatable. Angela made me feel really comfortable and kept things really current and informative."
Ellie Lee
Private Carer, Guardian Angel Carers Ltd
Get in touch
If you would like to know more about how we can support you in identifying key training needs to support workplace mental health and wellbeing
Workplace Wellbeing Academy
T: 07528 280280
E: info@workplacewellbeingacademy.com